Sight and Sound Technology are an Assistive Technology supplier.
Since the inception of the Disabled Student Allowance (DSA) 25 years ago, we have used our expertise, alongside that of our specialist partners in Hearing Loss and Ergonomics, to enable disabled students and those that support them.
Our comprehensive service covers all areas of the DSA ecosystem:
When a student places their DSA order with us our dedicated DSA Sales team make a point of going through the recommendations list with them over the phone. Once ordered the receipt is emailed directly to SAAS, copying in the student, and the institution if required. We have put together a video that can be sent to the students that explains the process in a short and friendly way.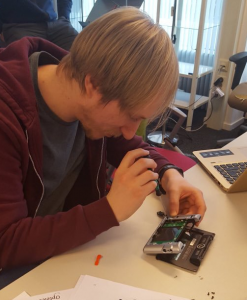 Our Workshop build the laptops with accessibility in mind, removing all 'bloatware' and installing our Support Hub. Software is preinstalled and backups are provided on CD and USB.
However, we passionately believe that it's not just delivering the software and hardware that matters, but the support we're able to provide afterwards.
Our Technical Support team are all long serving members of Sight and Sound Technology. They understand that students need minimal disruption so they will always aim to fix an issue remotely. Should a laptop need to be returned, a loan laptop will be sent to the student with their software already installed as quickly as possible. The team can be accessed in a number of ways through the Support Hub – a toolbar we install on all student laptops that provides direct links to technical support and information.
We have trainers based across the UK including Surrey, Northampton, Glasgow and Aberdeen. Training is available at whichever location suits the student and will be tailored to their needs, pace and recommendations.
Finally, Sight and Sound Technology has a dedicated DSA Manager, Carolyne Smith. Carolyne's role is to be 'The Student Champion'! Carolyne is passionate about the delivery of the DSA and what it means to be a DSA supplier. She makes a point of knowing about any shifts in policy and provides a clear line of escalation.
If you would like to try Sight and Sound Technology as a DSA Supplier please contact us at dsasales@sightandsound.co.uk and we will explain how you can request quotes or generate them online, send you our student resources and answer any other questions you might have.
Sight and Sound Technology can provide infrastructural support.
The DSA is a fantastic source of funding, but it's not available for every student. This is where Sight and Sound Technology can help. We have put together a catalogue of cost effective Assistive Technology solutions that, if deployed institution wide, can enable your Service to not only support your disabled students but also provide study tools for staff and students across the whole institution, including foreign students and those who may not have disclosed a disability but could still benefit from some support.
We have a team who are experts in deploying and maintaining software on networks, who can work with your IT and Library teams to establish and implement robust systems.
We can also provide a number of finance options, spreading the cost and helping you keep the technology up to date.
We call this the AT Toolkit – An Assistive Technology Strategy.
We work with institutions to find the best solutions for their budget, student population and staff, enabling you to build a business case for implementation.
If you would like to discuss an Assistive Technology Strategy for your institution then please contact our DSA Manager – Carolyne.Smith@sightandsound.co.uk
Sight and Sound Technology Demonstrations.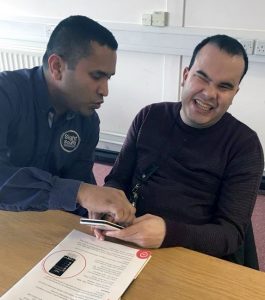 If there is software or hardware you're interested in seeing, then please don't hesitate to ask for a demonstration. We have people based all over the UK who can provide group or one to one demonstrations of all of the major products used in FE and HE. We can demonstrate to groups, for CPD, or as part of a student assessment. We understand how difficult it is to stay in touch with every technological advancement so just let us know what you're interested in and we'll organise a demonstration that fits with your needs and schedule. We can also provide resources such as Quick Start Guides and How To videos.
Our DSA Newsletter which is emailed bi-annually with details of the latest products and policy changes. If you would like to be added to the mailing list please let our DSA team know.
Finally…
Sight and Sound Technology are more than just box shifters, and that's what our day to day services and Getting AT Ready events are all about. Everything we do in regards to supporting disabled students and Disability Services is driven by our contact with the policy and decision makers in Student Finance, Assistive Technology consortiums and Government advisory groups. We're always looking at the bigger picture and are always happy to talk through ideas. We would love to hear from you!