Getting AT Ready 2017
The Policy and Technology Required to Futureproof Inclusion
Welcome and Introduction
Speaker: Glenn Tookey, CEO, Sight and Sound Technology
Glenn Tookey is the Chief Executive Officer of Sight and Sound Technology (SAST), the UK's leading provider of technology, support and training for people with sight loss and learning difficulties and a preferred DSA supplier to institutions across Scotland and the rest of the UK.
Glenn purchased the business in 2008, expanding to include The Force Ten Company in 2012. Constantly looking to develop SAST's portfolio in innovative ways, Glenn has tapped into his previous experience at BT and Telewest to put together a portfolio of products that has made SAST a market leader.
The WhatAT (product and disability information) and respexi (telecare) apps are just two examples of how Glenn has driven the business forward with emerging technologies.
Glenn lives in North London and is an avid collector of classic motorcycles and cars – marshalling at the Isle of Man TT was his dream come true!
Welcome address
Speaker: Fiona Brown, Associate Principle and Associate Director – Learning and Teaching,Forth Valley College
Forth Valley College work with all of their staff to make sure inclusiveness becomes second nature within the college. They believe this approach is undoubtedly the way forward for the further and higher education sectors in Scotland and as an institution aim to be leading the way.
The college as a whole has always been mindful of respect, equality and diversity and we are constantly looking to learn more ways to promote inclusiveness. That is why we are proud to be hosting Getting AT Ready 2017.
Panel Discussion: Policy and Pennies: Gazing into the Access and Inclusion Crystal Ball
Panellists:
Fiona Burns
Assistant Director for Access, Scottish Funding Council (SFC)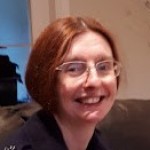 Fiona has worked at the SFC since 2002 in various roles including college funding, mergers, skills utilisation and strategic projects. She is currently involved in overseeing a set of access ambitions for both the college and university sector, such as increased intake and retention for our most deprived communities and a reduction in subjects with extreme gender imbalances. In the college sector we have introduced a new approach for reporting on funds allocated to colleges to meet the additional needs of students.
Fiona was also a member of the secretariat who supported the Commission on Widening Access.  The report from the Commission included 34 recommendations all of which have been accepted in full by the Scottish Government.
Catriona Mowatt
Disability Manager, Glasgow Caledonian University
Catriona has been the Disability Manager at GCU since 2010. Her career began working in Student Services in Further Education (at Stow and Langside Colleges), before moving over to Higher Education where she was employed as a Disability Adviser for 9 years at two other Scottish Universities (Stirling & Strathclyde). The GCU Disability Service received a Commendation in the category 'Student Support Team of the Year' at the 2016 Herald Higher Education Awards, in recognition of the work they have done to promote and support the inclusion of students on the autism spectrum.
Catriona is a longstanding member of the Scottish Government's DSAG Validation Panel.
Jane Gillham

Access Centre Manager, Edinburgh College
Jane is Manager of Edinburgh College Access Centre.  Previously she worked as a lecturer in Computing for 15 years.  Jane is currently involved in a project which aims to investigate how the best use might be made of assistive technology to support students and staff at Edinburgh College.  She has a particular interest in supporting students with Autistic Spectrum Disorders.
Workshop Summaries
Workshop 1 – Digital Inclusion: What Does it Really Mean?
Speaker:

Margaret McKay, Subject Specialist (Access and Inclusion), Jisc.
Margaret is one of three accessibility and inclusion subject specialists at Jisc who provide member organisations with support in embedding inclusive strategies into strategic and operational practice.
Prior to working in the post 16 education sector, Margaret started her professional life as an occupational therapist working in the area of vocational rehabilitation, supporting people with disabilities preparing to return to education, training or employment.  Having spent 10 years managing the learning support service at Glasgow College of Building and Printing (now City of Glasgow College), she then joined Jisc as an inclusion advisor, and since then has worked with the FE/HE sector across the UK supporting the promotion of digital inclusion.
Workshop 2 – Socialeyes: Inclusion Beyond the Classroom
The workshop will focus on the concern of social isolation amongst students. The aim is to discuss each institution's experiences of social isolation and also to share examples of initiatives to tackle
this.  I will discuss our experience and efforts to address this complex issue.
Speaker:
Danny Gallacher, Disability Adviser, Glasgow Caledonian University
Danny has worked as part of the Disability Team at Glasgow Caledonian University for the last 7 years and within the area of disability support in HE for 9 years in total. He has a particular interest in the area of Autism and support for autistic students throughout their university experience.
Workshop 3 – The AT Technologist: What They Do and Why You Need One
 A discussion of the Assistive Technologist role as defined by the Colleges who ran and took part in the Jisc funded Dart project, inclusive of how to develop the role to suit your context, recruiting and training candidates and how to deploy such roles successfully within your organisation. The session will also cover the research outputs of the Dart project.
Speaker:

Rohan Slaughter, Subject specialist (network, technologies and infrastructure), Jisc.
As a Subject specialist at Jisc Rohan ensures network technologies and infrastructure support the teaching and learning that takes place in their supported organisations. With a background in IT, assistive technology and education management, and a qualified teacher, he has 15 years' experience of supporting technology in the education sector.
Previously employed at Scope's Beaumont College as assistant principal and formerly as the head of technology he led the development of the integrated 'technology team' at the college which consists of both mainstream IT staff and assistive technologists who work with students and other specialist staff to deploy assistive technology/IT hardware and software solutions.
He has undertaken consultancy work for further education colleges, higher education institutions, specialist colleges and schools in the areas of assistive technology, IT and technology and the integration of such with the curriculum. He was chair of the Jisc / Natspec technology advisory group until July 2015 and is a current member of the Karten Network board.
Workshop 4 – Exhibition
Treasure hunt: For every exhibitor you visit you will receive an entry card for the prize draw. Just write your name on each card and submit all the cards you have collected in to the draw at the end of the day. The more exhibitors you visit the more chances you have of winning a prize.
Sight and Sound Technology
Sight and Sound Technology are a specialist supplier of Assistive Technology equipment and services throughout the UK. We are widely known as the UK Centre of Excellence of Technology for the blind and visually impaired and also we specialise in technology and support for those
with learning difficulties. We have been involved in the provision of the DSA since its inception and have supplied over 30,000 students with their equipment during that time. As we deal with some of the most complex cases, we understand that the supply, build, technical support, training and after-care that we supply to all of our customers and students has to be of the highest standard.
For further information on this or any of the products and services mentioned throughout the day, please do not hesitate to get in touch.
Ruth Gallagher Carr
Business Development Executive (Scotland)
M – 07500 822 892
E – ruth.gallagher-carr@sightandsound.co.uk
Carolyne Smith
DSA Business Manager
T – 01604 798 002
M – 07920 465 871
E – carolyne.smith@sightandsound.co.uk
Welton House North Wing
Summerhouse Road
Moulton Park
Northampton
NN3 6WD
The Centrum
38 Queen Street
Glasgow
G1 3BX
e: info@sightandsound.co.uk w: www.sightandsound.co.uk
Sight and Sound Technology would like to extend a special thank you to Forth Valley College for their support in making this event possible.